January 20, 2022, 1:30 p.m.
| |
1 comment
Whether it's buying groceries, booking a train ticket, making a medical appointment or hailing a taxi, everything is done on our mobile phones today. But, for the 140 million elderly people in China who do not know how to use a smartphone, the digitization of services, accelerated by the pandemic, has completely isolated them. To reconnect them to the digital world, Ogilvy Shanghai has reinvented the QR code in this latest campaign.
The QR code, which can often evoke frustration and fear in seniors, has been reimagined in the Care Code (乐龄码), a smiley symbol seniors can use to access simplified versions of the most popular digital tools. commonplaces in China, including Didi and Alipay, facilitating their access to essential services.
The campaign supports the collective efforts of the Bureau of Veterans Affairs of the CPC Shanghai Municipal Committee, the Office of the Shanghai Spiritual Civilization Construction Commission, the Shanghai Health Commission, the Shanghai Economic and Shanghai Informatization, Shanghai Communications Management Bureau and Shanghai Association for Science and Technology to create a more senior-friendly society and bridge the digital divide.
Unlike traditional black and white QR codes, care codes feature smiling faces of local elders.
The blue Care Codes use smiling portraits of local seniors and act as brand logos for all initiatives to help seniors integrate into the digital world. By scanning the Care Code, users can access streamlined versions of China's essential mobile tools, including carpooling app Didi and payment platform Alipay. The Care Code also leads users to the WeChat service account "Le Ling Shen Cheng G Life" (乐龄申城G生活), a comprehensive learning platform where seniors can learn useful knowledge and digital skills to facilitate everyday life through video tutorials and interactive games. Through the platform, seniors can view retirement information and book offline classes hosted in their neighborhood.
Care codes will also be displayed at key locations in Shanghai's 16 districts, including community centers, subway stations, banks and service halls of major telecom operators to indicate the presence of volunteers to help people. seniors to everything from paying their utility bills to getting online. appointment.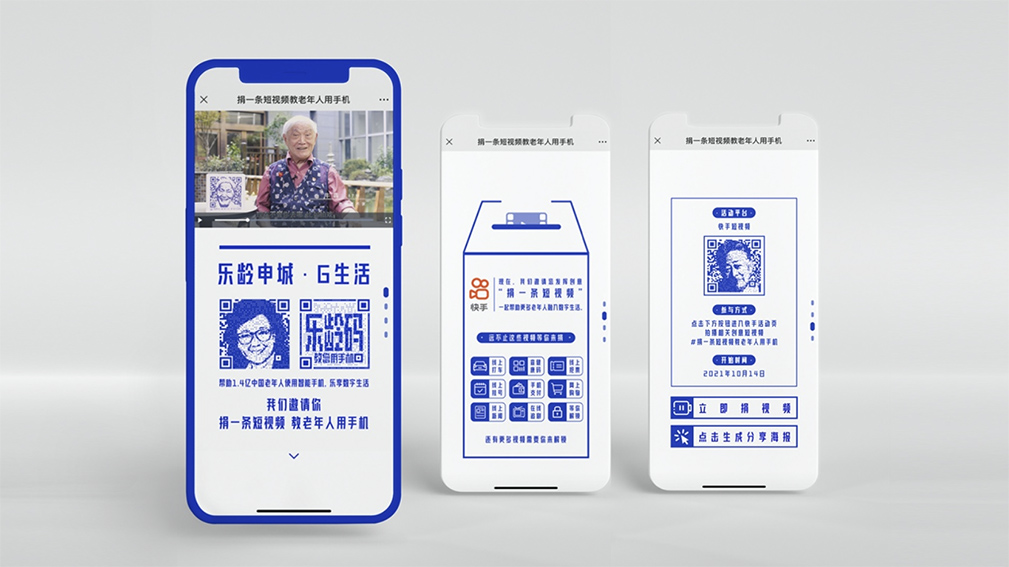 On the occasion of the Double Ninth Festival in China (October 14), a traditional festival for young people to show respect for older generations, local governments and Ogilvy Shanghai have collaborated to encourage intergenerational knowledge transfer by launching a campaign of creative digital gifts. Taking into account the Chinese silver generation's love for short video content, we have partnered with Kuaishou to encourage young Chinese people, who are usually prolific content creators, to donate a short video teaching seniors how use smartphones in daily life scenarios. 6 celebrity ambassadors have been recruited to promote the initiative alongside livestreaming star Austin Li.
The campaign doesn't stop there – a small wearable smart device, the 'Care Key' is currently under development and should be launched in the coming months to further help older people with mobility issues and those who don't know not use their smartphone. . Using this device, users will be able to call a service hotline and send their location information to loved ones if they get lost in the city.
A story about how creativity and technology can bridge generations, making life easier for digitally disadvantaged groups.